Prof. Karl Kämpf | Artist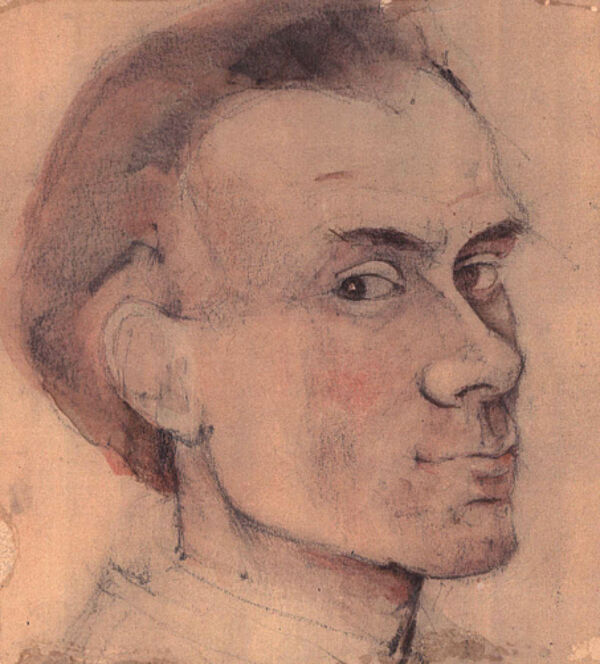 Karl Kämpf was born on February 17, 1902, the son of a master baker in Heilbronn. He had three siblings. In an accident in 1908 he lost his left arm. Following his school years, he completed an apprenticeship in the studio of the silverware factory Peter Bruckmann & Sons in Heilbronn. He worked as a designer in his company's design studio until 1927. During this time he participated in the rebuilding and reconstruction of Heilbronn's artistic life and its reorientation after the First World War. In 1925 he became a member of the Heilbronn Artists' Association and participated in various exhibitions. 1928-1935 Karl Kämpf studied at the Academy of Fine Arts in Berlin Charlottenburg.
A year after he began working as a freelance artist and graphic designer, he married Elfriede Glaser in 1936. She was a painter, sculptor and goldsmith. In 1938 Karl Kämpf became a teacher, and two years later a professor at the Academy of Fine Arts in Berlin Charlottenburg. In 1945 the Kämpf family with son Christian was forced to flee to relatives in Fallingbostel. Karl Kämpf resumed his work as a freelance artist. In the immediate post-war years, he created artistic documentation of the destroyed Heilbronn. Karl Kämpf died in Fallingbostel on March 2, 1987.
The THORWART-Jeska Foundation supported his son Christian Kämpf in the preparation of a catalog of Prof. Karl Kämpf's life's work.
The children's book illustrator Christian Kämpf, born in Berlin in 1943, lives and works in Nuremberg. He owes his love of art to his parents, Professor Karl Kämpf and Mrs. Elfriede Glaser Kämpf, who were respected artists and lecturers at the Berlin Academy. Christian Kämpf has been a freelance illustrator since 1973. His vast repertoire includes children's books, magazines, films, craft and coloring books, posters and much more.
CV
1902 born in Heilbronner Neckar
1917-1921 Apprenticeship at Bruckmann & Sons in Heilbronn
1922-1935 Designer in the studio of the company Bruckmann & Sons
Since in 1925 member of the artist association and Heilbronn
1927-1935 Studies at the Berlin Academy of Fine Arts with Professors Bremisch, Böhm, Härter and others
1935-1938 Freelance graphic artist in Berlin
For the Olympic Games 1936 many graphics were made by him
1938-1945 Appointment at the Academy of Fine Arts Berlin as a teacher professor of applied graphics
Since 1946 studio in Fallingbostel, works of sculptures, wall design, murals
Exhibitions in Heilbronn, Hanover, Stuttgart, France, Italy, Spain, Greece
1987 Karl Kämpf died on March 2nd