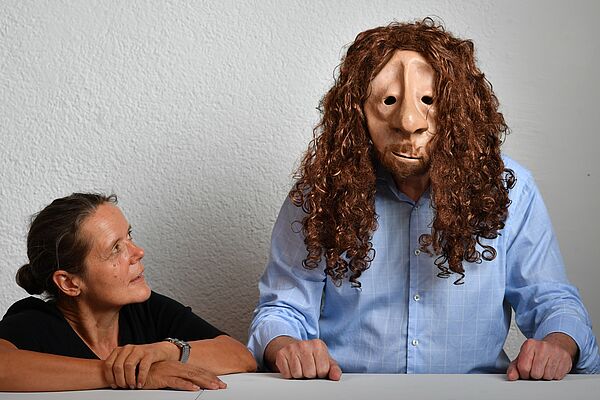 Susanne Carl is a freelance artist living in Nuremberg. Her work is based on her fascination for masks and people. She moves playfully and easily between the genres of staging, performance, photography, sculpture, and interactive art projects. The options of her preferred medium, the mask, are explored with great variety and precision. In this way, the artist creates surprising visual worlds with often paradoxical, humorous and at the same time profound perspectives. The crossover artist between worlds cooperates on a project basis with theaters and museums as well as with places far removed from art. She is convinced that art is a means of life.
The following book project was supported by the Foundation:
"I am not in this world," Staged Photography, Susanne Carl, Bruno Weiß, 152 pages, German/English, numerous color illustrations. Text Thomas Heyden. Published by the Institute of Modern Art Nuremberg in the Verlag für moderne Kunst, Vienna. 2016ISBN 978-3-903131-13-2; 24.-.
In the illustrated, staged photographs, Susanne Carl brings to life a multitude of characters with specially created masks, wigs, and detailed costumes. In the process, she convincingly slips into the multifaceted range of roles herself. Real locations are carefully selected as settings for the scenic compositions. In collaboration with photographer Bruno Weiß, surprising and touching images are created, which inevitably become the seeds of stories: sad, funny and abysmal.
CV (selection)
Susanne Carl, freelance artist
lives in Nuremberg, grew up at the Chiemsee
currently - Interactive art projects and performative actions, staged photography, workshops. The basis is the cross-genre exploration of masks
Studied free art and art education at the Academy of Fine Arts in Nuremberg
Further training at home and abroad on performance, physical theater, clown and comedy, mask theater
Since 1995, teaching positions at various universities
2003 - 2007, performances in numerous Blue Nights in Nuremberg with the art figure Rosi
2007 Founding member of the artist group LeoPART (focus on research participatory, site-specific art projects)
Since 2003 project-related collaborations with Staatstheater Nuremberg and Kassel, Schauspielhaus Graz, Landestheater Salzburg and therapy center Diakonie, geriatric nursing school Caritas, palliative care Erlangen, company GAF Munich and many more
Since 2018 participatory art projects with museums e.g. JUST PERFECT, 2020, Germanisches Nationalmuseum / KPZ Nuremberg
Awards (selection)
1991 Art Promotion Prize of the City of Lauf
2007 Prize of the City of Nuremberg for Art and Science - Nuremberg Scholarship
2015 Paula Maurer Prize, Nuremberg, 2nd prize
Special Projects
2016, I am not in this world, with photographer Bruno Weiß, exhibition at Zumikon Nuremberg, and publication, cooperation Institute for Modern Art Nuremberg.
2016, Alter Ego Amberg - Reflections, site-specific exhibition with artist Regina Pemsl, City Gallery Alte Feuerwache in the City Museum Amberg.
2017, People inside and outside, exhibition Gallery Kunstkontor Nuremberg
2018/19, ichDÜRERdu - participatory art project with masks at the Nuremberg Autumn Folk Festival and exhibition at Dürerhaus Nuremberg
2019, Who are you?, participatory format/art action with masks, Nuremberg Toy Museum, presentation
2020, JUST PERFECT - participatory art project with masks on the relativity of beauty, State Theater Kassel and KPZ / Germanic National Museum Nuremberg
Publikationen
Buch Ich bin nicht auf dieser Welt, Inszenierte Fotografie mit Masken, Susanne Carl, Bruno Weiß, zahlreiche farbige Abbildungen. Herausgegeben vom Institut für moderne Kunst Nürnberg im Verlag für moderne Kunst, Wien. 2016 ISBN 978-3-903131-13-2; Preis 24,- €
Multiple, Leporello Susanne Carl Villa, signiert, 2017
3 questions
for Susanne Carl
What motivates you in what you do?
Passion for the visual arts - creating images, masks, performances.
Passion for the performing arts, especially visual forms - non-verbal mask play, physical theater and movement, clown and comedy.
Delight in creative exchange with people - teaching, workshops, participatory art projects, collaboration with colleagues.

"Art is a multilayered means of communication and a special field of research on the issues of life." (Susanne Carl)

"Art does not reproduce the visible, but makes visible!" (Paul Klee)
What were you able to implement thanks to the support of the THORWART JESKA Foundation?
The almost 60 photographic productions in the publication I am not in this world invite everyone, whether children or adults, art lovers or the simply interested people, to fantastic and lively excursions into their own being. The immanent questioning of presumed normality and stereotypes often humorously implies the discovery of surprising freedoms. The handy format of the publication aims to accompany everyday life in the purse or even on the kitchen table and to open up spaces for wonder and amazement again and again.

"The book is wonderful, I love it and take a look at it quite often, so touching!!!" Jutta H.
What are your dream projects for the coming years, what do you really want to do?
Desirable is a further publication on the one hand for the presentation of the development of my specific artistic approach with masks and on the other hand with an overview of the multi-layered projects in the border area of art and theater. Another wish is a scholarship for genuine artistic research work.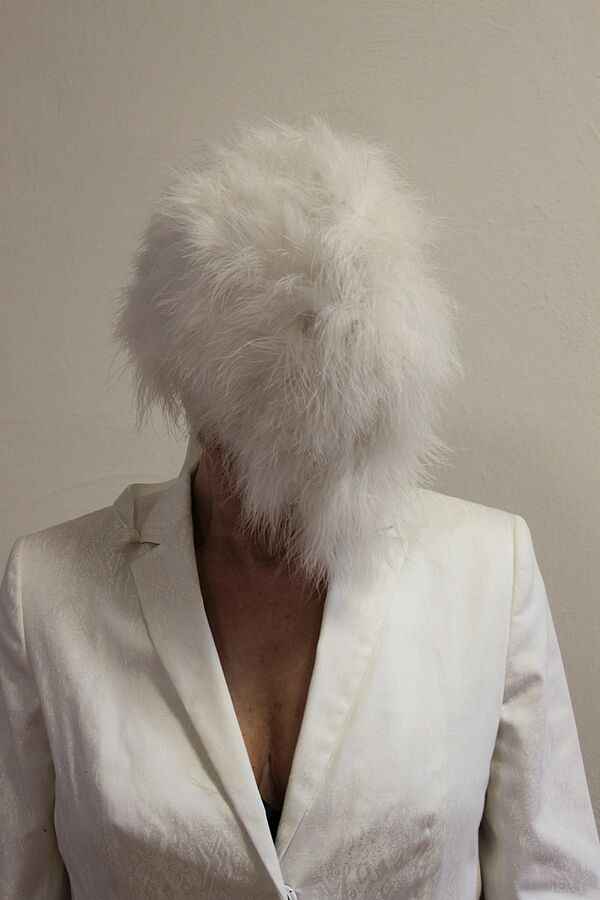 Compulsory mask light as a feather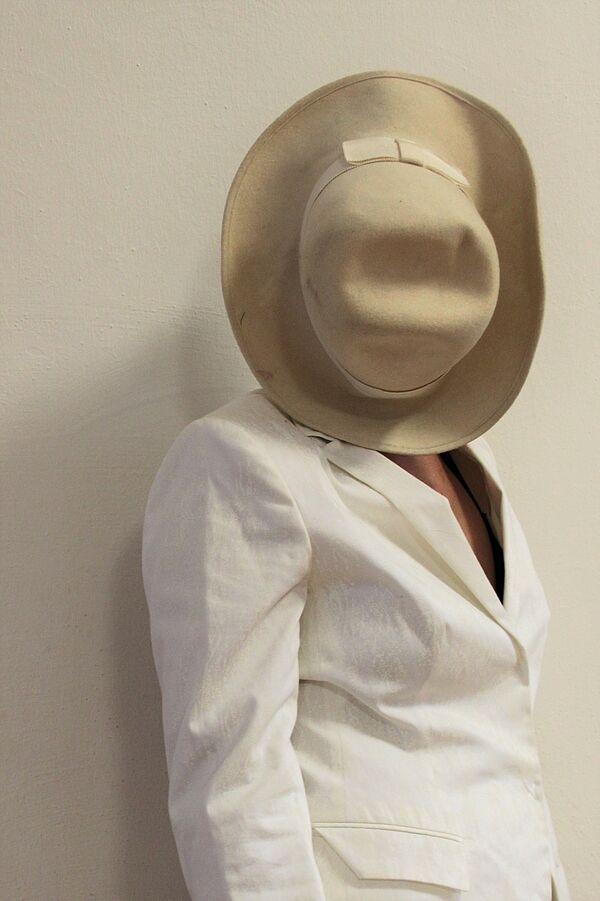 Compulsory mask with hat face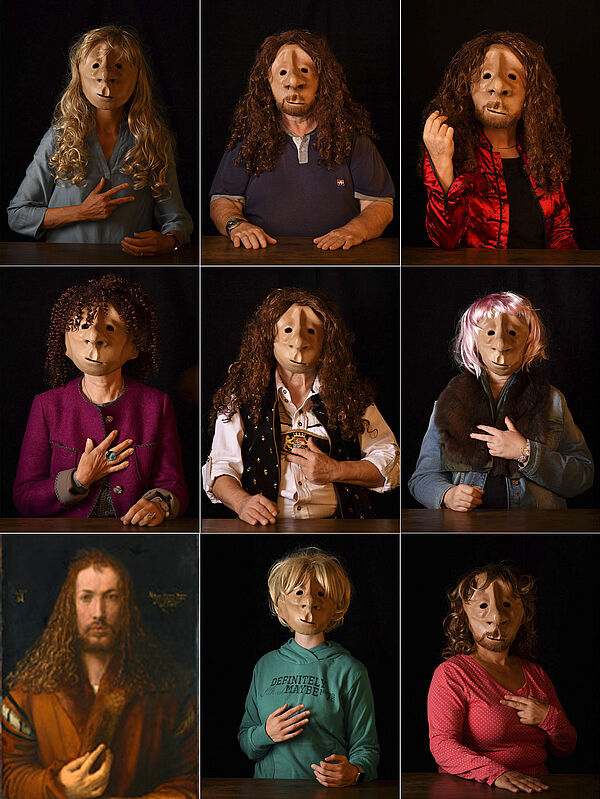 ichDÜRERdu.2018/19
Photo: Berny Meyer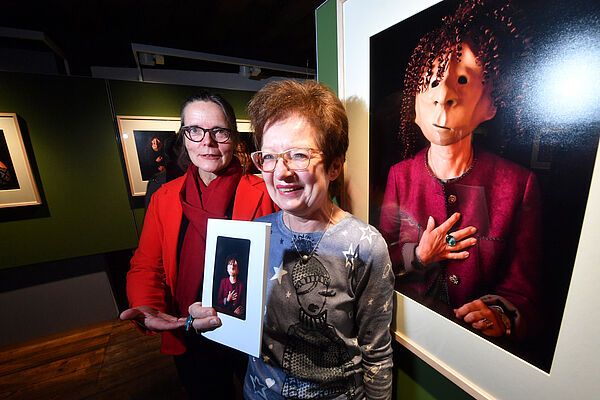 ichDÜRERdu.2018/19
Photo: Berny Meyer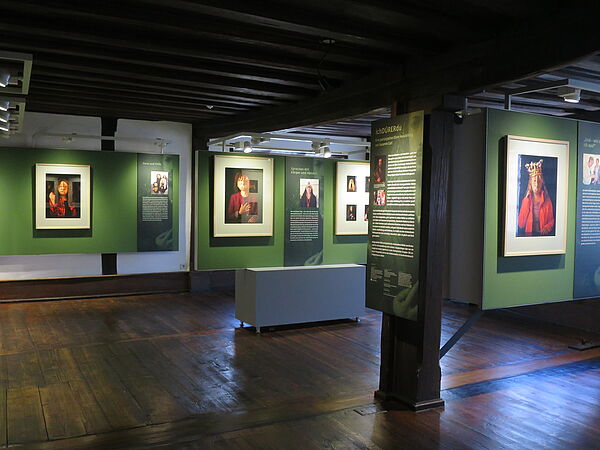 ichDÜRERdu.2018/19
Photo: Berny Meyer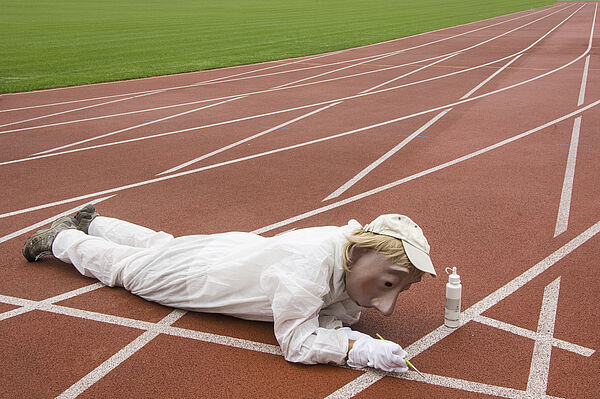 Working on the ground
Photo: Bruno Weiß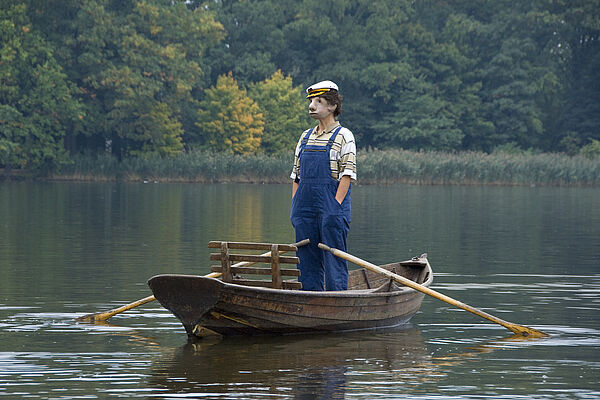 Man in a boat
Photo: Bruno Weiß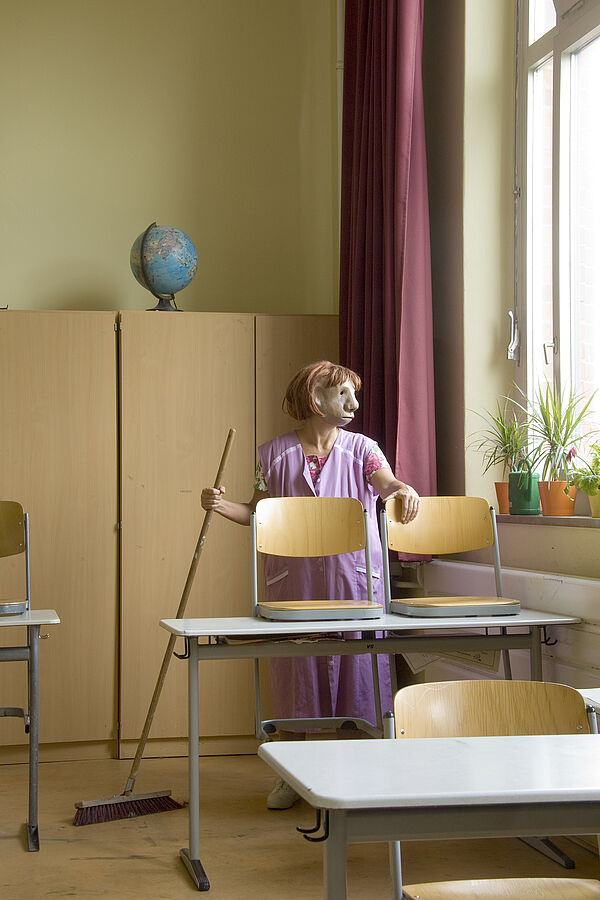 Broom globe window view
Photo: Bruno Weiß