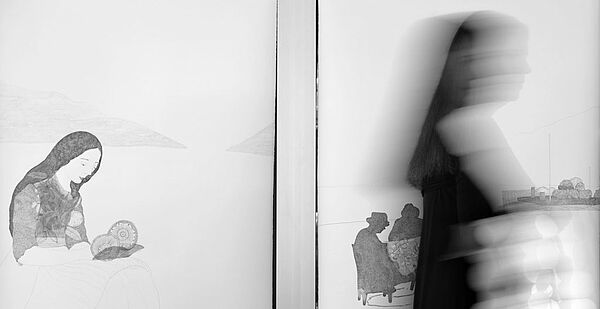 Verena Waffek is an artist who would be inadequately described as a illustrator. Her artistic process knows no genre boundaries. One thing leads to another and at the end there are often installations of the most diverse objects, which fit together in an atmospherically dense way. The artist loves organizing and arranging. Her sceneries are sometimes reminiscent of museums of cultural history over which time has passed, then again of stage sets that are still waiting to be performed. There is always a delicate melancholy about Verena Waffek's settings, as if their very existence is at risk. Verena Waffek also runs a children's and youth atelier in Nuremberg, the Atelier im Galeriehaus Defet. This is a place to sharpen the senses, to address the mind and emotions at the same time, and to encourage fun, curious learning.
CV (selection)
1953 Verena Waffek, born in Ehingen, lives and works in Nuremberg
1986-92 studies at the Academy of Fine Arts, Nuremberg / master student of Prof. Ludwig Scharl
1993 Working scholarship within the framework of the cultural exchange of the Limousin region and the district of Middle Franconia
1995 Foundation of the Waffek Children's and Youth Studio
1999 Foundation of the gallery First Floor at zumikon, Nuremberg (with Helga von Rauffer)
2001-18 curator of the lounge at zumikon, Nuremberg
since 2006 public relations and coordination at the studio and gallery house Defet, Nuremberg
Since 2018 member of the advisory board for fine arts Nuremberg
Awards
1987 Upper Swabian Art Prize
1988 Prize of Wacker Chemie-Werke, Burghausen
1989 Prize, competition Art in Architecture, Staedtler, Nuremberg
1990 International Summer Academy Salzburg with Franz Erhard Walther, scholarship of the Bavarian State Ministry of Science, Research and the Arts. 1st prize, competition Kunst am Bau, church window St. Matthias, Gochsheim. 2nd prize, AEG Art Prize Ecology.
1992 Debutant Prize of the Bavarian State Ministry of Science, Research and the Arts (catalog funding).
2007 Promotion Award of the City of Nuremberg for Culture and Science.
2013 Wolfram-von-Eschenbach Prize 2013 of the District of Central Franconia.
Publications
the touch of things through the glance, artist book.
Seven thousand one hundred and twenty-six beautiful days /
We make juices, sweet as we love them, from walnut chips and squash and turnips.
Flowers for Louise Bourgeois, With text contributions by Martin Oswald and Petra Weigle.
IN-FINITUM, With a speech at the exhibition opening by Andreas Radlmaier and a greeting by Prof. Dr. Julia Lehner.