Sebastian Tröger | Artist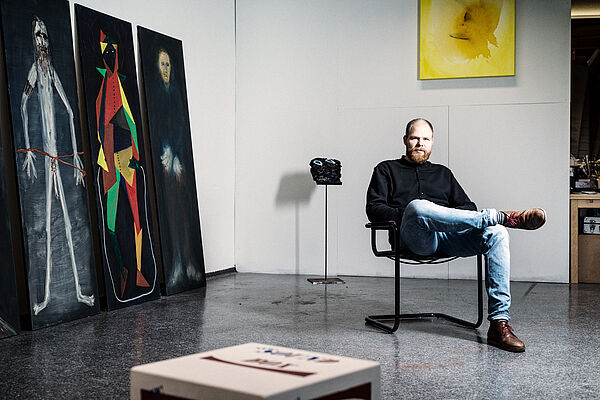 Sebastian Tröger, who lives and works in Nuremberg, received an artist sponsorship from the Thorwart Jeska Foundation in 2019. The freelance artist, who completed his studies in 2014 as a master student at the Academy of Fine Arts in Nuremberg, was awarded the Bavarian Art Promotion Prize in 2019. The jury praised "the complex interpenetration of word and image, which in its sometimes cheerful, disrespectful handling of content and material deals with the dilemmas of art and its reception in a thoroughly humorous liberating way in the form of a mostly surprising intellectual turn."
CV
Born in Erlangen in 1986
2007-2014 Studies at the Academy of Fine Arts in Nuremberg
2009 Foundation of the exhibition series "Z.A.K.K."
2010-2011 Studies at the HfG Karlsruhe and the AdBK Karlsruhe
2011 Foundation Kunstraum | Deichslerstraße in Nuremberg
2011-2014 tutor for sound design at AdBK Nuremberg
2012 Foundation of the exhibition format "studioTRÖGER"
2013 Master student with Prof. Michael Munding
2014 class Prof. Jürgen Teller
since 2014 lecturer for media art sound at the AdBK Nuremberg
Awards
Bavarian Art Promotion Award (2019)
Funding of the THORWART JESKA Foundation (2019)
zumikon Cultural Foundation Nuremberg (2018)
Studio Scholarship of the Free State of Bavaria (2015 - 2018)
Art Prize Bamberg (2017)
Culture Award of the City of Nuremberg (2016)
Academy Award of the ADBK Nuremberg (2014)
Scholarship of the Free State of Bavaria for studies at the HfG Karlsruhe (2010 - 2011)
Exhibitions
Ludwig Museum Budapest
Museum Art Palace Düsseldorf
ZKM Karlsruhe, Artist House Dortmund
Museum Würth Schwäbisch Hall
Bethanien Berlin
the white house Vienna
Krakauer Haus Nuremberg
Kunsthaus Nuremberg
Stadtgalerie Kiel
Villa Dessauer Bamberg
Wysing Arts Contemporary Cambridge
Art Academy of Latvia Riga
Art Association of Nuremberg
Art Association of Karlsruhe
Art Association of Würzburg
Art Association of Amberg
Art Association of Heidelberg
Artspace Morgenstrasse Karlsruhe
Erlkönig Bremen
zumikon Nuremberg
DG Gallery Munich
Collections
Bavarian State Painting Collections, Würth Collection, Rotary Collection Nuremberg-Sigena
3 questions
for Sebastian Tröger
What does art mean to you?
Art for me is a way to critically and differentiatedly deal with my environment in the form of different media means. My artistic work is characterized primarily by the interaction between practical and conceptual work. Starting point and basis are drawing and painting, which are experimentally developed within sculptural installations, photographs, films, objects and sound works. In terms of content, I deal with the system of art as well as with my own self-image as an artist. In historical-critical reflection, works are created that pose questions to the present in an ironically fractured way, using the means of painting and translated into media. The titles of the pictures or works and the combination of picture and text are of particular importance.
What were you able to implement thanks to the support of the THORWART JESKA Foundation?
Thanks to the support of the THORWART JESKA Foundation, I was able to further develop my artistic work, to realize more complex installative exhibition projects and to better document my artistic work, in collaboration with the photographer Tim Hufnagl and the communication designer Eva Beham.
Which project touched you the most and why?
At the end of 2018, I realized the action "Tröger paints" in the studio Markus Birner. Five days in a row I painted a picture every evening, which were then auctioned off. In this way I was able to donate over 8,000 € to charitable organizations and projects. These included the "Integration Center for Refugee Women" of Treffpunkt e.V., BUND Naturschutz Nürnberg, Association Help for Women in Need e.V., German Child Protection Association KG Nuremberg, etc. The campaign productively linked a contemporary art discourse with the goal of supporting socially relevant projects.

The patron saints, Sebastian Tröger

The patron saints, Sebastian Tröger

The patron saints, Sebastian Tröger

The patron saints, Sebastian Tröger

The patron saints, Sebastian Tröger

The patron saints, Sebastian Tröger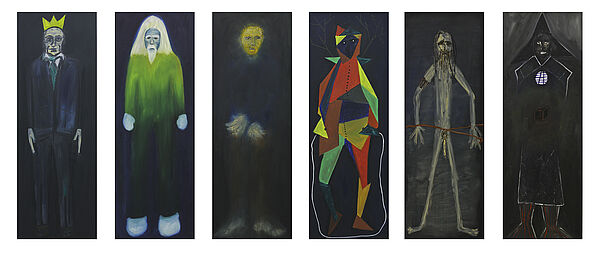 "The patron saints I-VI" oil and acrylic on canvas
6 parts, each 200cm x 70cm 2012
Photo: Sebastian Tröger