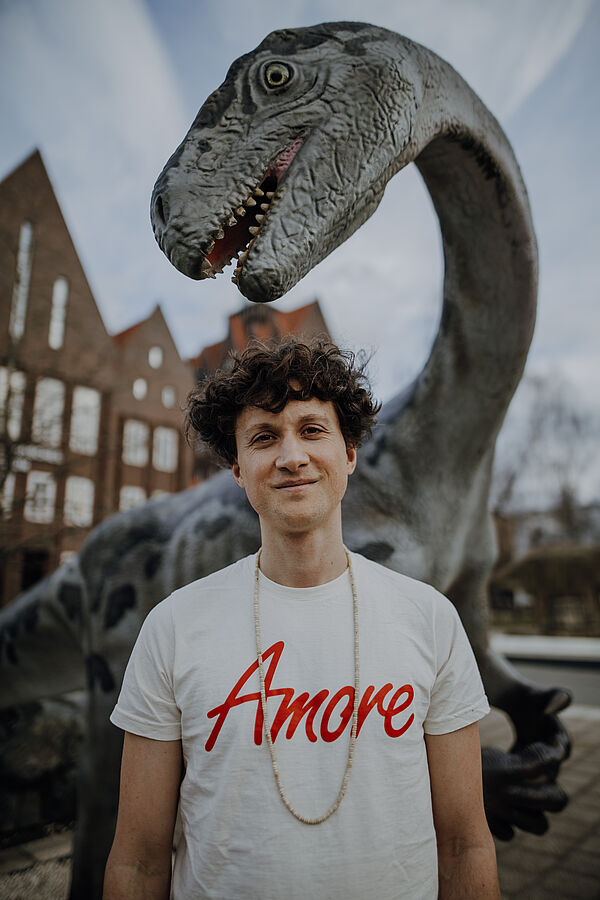 Joshua Groß studied political science, economics, and ethics of text cultures. He writes fiction and essays. His work has been recognized with numerous awards to date. In 2018, he received the work scholarship of the Free State of Bavaria and was a grantee of the Roger Willemsen Foundation. In 2019, he received the Anna Seghers Prize. In 2021, he will be awarded the A und A Culture Foundation Literature Prize "for his remarkably extensive and diverse early literary work."
To enable him to take a 3-month sabbatical, the THORWART-JESK-STIFTUNG granted him a travel grant in 2016.
Publications
The comfort of phone booths, starfruit publications, 2013
Magic raisins, starfruit publications, 2014
Fawn cut, starfruit publications, 2016
Fluffy contrasts, Korbinian publishing house, 2017
Spraying the Sense Atoms, Sukultur, 2019 (co-authored with Lisa Krusche).
Flexing in Miami, Matthes & Seitz Berlin, 2020
Escape, Matthes & Seitz Berlin, 2021
Awards/Scholarships
2014 Literature Promotion Prize of the IHK Cultural Foundation of Middle Franconian Economy
2014 Wolfram-von-Eschenbach sponsorship award
2014 Bavarian Art Promotion Prize
2016 3-month residency scholarship of the Thorwart-Jeska-Foundation on Sri Lanka
2016 Sponsorship award of the Cultural Foundation Erlangen
2018 Working scholarship of the Bavarian Free State
2018 Participation in the Ingeborg Bachmann Prize
2019 Anna Seghers Prize
2020 Working scholarship of the zumikon cultural foundation
2021 Literature Prize of the A and A Cultural Foundation
3 questions
for Joshua Groß
How important is writing for you?
Lichtenberg once noted: "There is a big difference between still believing something and believing it again. Still believing that the moon acts on plants betrays stupidity and superstition, but believing it again shows philosophy and reflection." Among other things, I write to become less stupid and less superstitious.
What have you been able to achieve through the support of the THORWART JESKA FOUNDATION?
I used the time of the scholarship to deal with questions of cognition theory, with research on artificial intelligence, and with science fiction literature. This exploration still moves me, or continues to do so.
What are your plans for the future in your field?
I believe that I have more to do than I will ever be able to realize (keyword: less stupidity, less superstition). I want to realize as many projects as possible.